Pigment concentrates
Protec Systempasten GmbH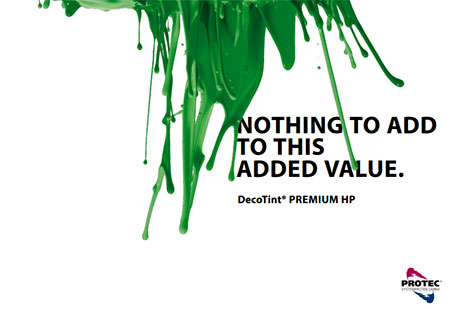 Protec Systempasten GmbH has been supplying paste systems and tinting technologies to the paint industry for many years. Our partners receive individualised tailor-made technical solutions for their own in-house production as well as for commercial colour mixing systems. Protec Systempasten is your gateway for professional colour mixing. We offer tailor-made solutions based on customer-specific concepts.

As specialists and technological leaders, we offer an all-round service package that includes selecting a tinting-paste system tailored to your requirements, developing tint-range formulations, and converting and servicing mixing machines.
Products
PROTEC KIT SYSTEM
DecoTint PREMIUM HP
PREMIUM HP - Update 2013
DecoTint PREMIUM W
DecoTint PREMIUM S
DecoTint PREMIUM I
DecoAdd IR+
DecoAdd WP+